Piexo offers a greener alternative to traditional aerosol and gel air fresheners.
Improves Indoor Air Quality
The System
Piezoelectricity
A piezo disk generates a voltage when deformed by force. Piezoelectricity dates back to its 18th Century discovery by Pierre Curie. Since, It's found use in a number of applications -- most notably in the development of Sonar technology during World War I.
Chemical Formulation
Only the right formula of chemical can guarantee the perfect function of the system.
6

micron

Spray particle is 6 micron in size. It will stay airborne for 2 hours.
6,000

sprays

Each 120ml content can be equivalent to 6,000 sprays 0.02mL per spray.
Up to
24,000

cu.ft.

Covers between 6,000 and 24,000 cubic feet with proper ventilation.
SPXO 3-7 simple small
• 120mL refill bottle
• 30 or 60 days spray setting
• 4 AA batteries last 60 or 120 days
SPXO 3-2 PROGRAM SMALL
• 120mL refill bottle
• Real-time programmable setting
• 4 AA batteries perform 12,000 sprays
The Benefits
3 Reasons We Made Piexo
No Metal Cans
We try to make everything out of plastic: light, strong, and clean. It's easy to recycle and better for the environment.
No Added VOCs
Piexo technology allows us to use safer chemical formulations. You breathe better air. The impact on your health, the environment, and the impact on our planet is a positive one. Small change adds up fast.
No Propellant Gas
Gas can weigh a ton. That's why we decided to give you more product content for the money. No propellants also helps our manufacturing process with less equipment to power.
Hardware
2 Dispenser Options

for all your needs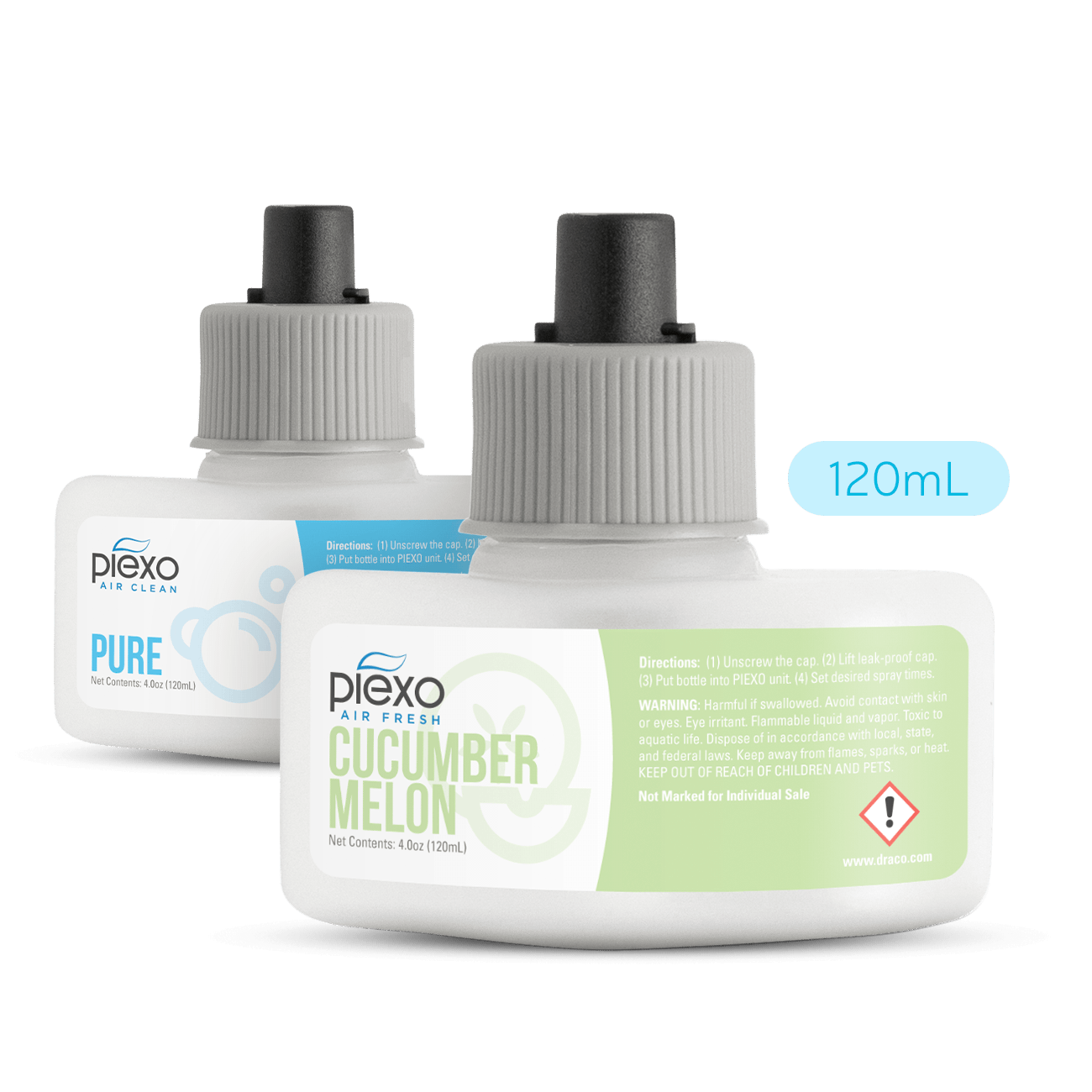 Refills
Full plastic construction footprint reducing the landfill waste of conventional metal can aerosol refills. 120ml refill sizes are available for Air Fresh and Air Clean.